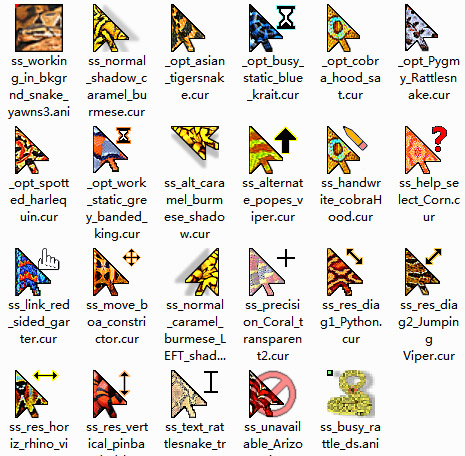 Tag: Snakeskin


Made from real photos of real snakes! Optional extra cursors included. Species names are in filenames & listed below. All static cursors are 32+48px. for normal to moderate DPI settings (up to 200% 180px).

(These cursors have increased saturation.)

Species:

============

Alternate - Pope's Viper

Busy - Rattlesnake

Handwrite - Cobra

Help Select - Corn Snake

Link Select - Calif. Red Sided Garter

Move - Boa Constrictor

Normal Select - Caramel Burmese Python

Precision Select - Coral Snake

Resize diagonal 1 - Python

Resize diagonal 2 - Jumping Viper

Resize Horizontal - Rhino Viper

Resize Vertical - Pin Banded Honduran

Text - Rattlesnake

Unavailable - Arizona King

Working in Background static - Grey Banded King

Working in Background animated - unknown snake "yawns"