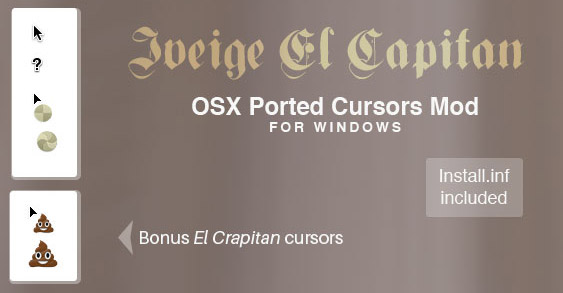 Tag: OSX Iveige


I wasn't sure whether to call this mod Ivory or Beige so I went with Iveige. It's a lighter rebuttal to the B&W mod for lighter themes. The set called El Crapitan (poop cursor) is included, something I made for myself in a moment of weakness lol. I was bored! Anyway, last mod I'm doing of the OSX-ported cursor.

Unzip the pack and find the file: Install.inf...

1. Right click on "Install.inf" and select Install.

2. Go to Control Panel -> Appearance -> Mouse Pointers

3. Choose "Iveige Capitan" or "El Crapitan" as your cursors.

Double-check your specific Windows OS version for detailed info on how to change your cursors.