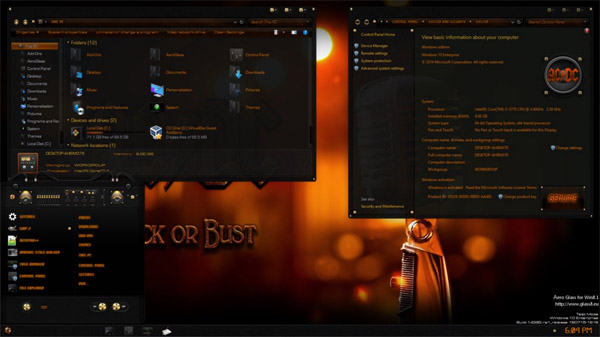 Tag: Windows 10 theme ACDC


Rock or Bust: ACDC for Windows 10 Anniversary Update aka Redstone One

Theme Includes

custom cursors

custom sound pack

shell32 images

start buttons

wallpapers

Theme Extras

Dock

Fonts

Genuine Image

Shellbrd Orb

Magnum iPack

Theme Credits

Razorsedge

Mr GRiM - custom import scripts

Methods to Install Custom Themes

Installing themes on Windows 10 Anniversary Update 1607 Build 14393 Redstone One

Windows 10 All-In-One Installer with Uninstaller

Tools You May Need

Uxstyle, Theme Signature Bypass and UltraUxThemePatcher v3.1.0

UxStyle is a bit of software that relaxes Windows theme signature requirements to enable third-party customization. Specifically, UxStyle consists of a tiny system service and a kernel driver that are loaded into memory where they hang out until reboot. No file system changes are made. (First introduced on March 19, 2009.) UxStyle was recently rebranded to UxStyle Community Edition and published to GitHub under the GPL license.

UxTheme service hook - Visual Theme Signature Bypass

UltraUXThemePatcher modifies your system files so that 3. party themes can be used. The program backs up the original system files and all changes can be undone by uninstalling if you have issues. UltraUXThemePatcher is available for Windows XP to Windows 10 RTM and Anniversary Update 1607 for 32bit and 64bit version. Note: This application makes changes to your system files, this can lead to unexpected problems or total breakdown of Windows!

ONE (OldNewExplorer)

OldNewExplorer is the Windows 10 (and Windows 8.1, and 8) shell extension / tweaker which can undo "improvements" to file browsing made in newer Windows versions. Everything is optional for your liking.

Restore devices / drives grouping - Everything is 'Devices and drives'. That's stupid! O-N-E can restore grouping which made sense in Win7/8.

Restore libraries / remove folders - Remove all those folders which were unoptionally added into Windows 8.1 This PC folder and put the libraries back to their place, without registry hacking / breaking apps.

Restore command bar / remove Ribbon - Because some people consider it an abomination.

Restore details pane at bottom - Same reason; reclaim useful horizontal space.

Improve styling - Get rid of some Win7 stuff here and there; improve styling with some built-in visual styles.

For themers / skinners, O-N-E can help to override a lot of hardcoded styling in Windows 10!

StartIsBack++ for Windows 10

What's hot about StartIsBack on Windows 10 now?

Live badges for modern apps on taskbar and Start menu!

Taskbar skinning!

Ability to reduce resource usage by disabling newer Start menu and Cortana processes from prelaunching

Ability to use adequately sized (32x32) large icons and larger start menu button on taskbar

Modern icon glyphs on Start menu right hand pane- Modern blur, drop shadow and immersive context menus for start menu

Fully dynamic DPI aware start menu and configuration app- New modern style with round user picture- Lots of new minor additions and tweaks

Aero Glass for Win8.1+

Experience native look of Aero Glass interface on Windows 8.x+

This utility returns the complete glass effect into windows frames.

Apply glass look to windows borders

Improve UI experience

Change amount of transparency in Control panels directly

Change inactive windows borders color

Skin windows borders (add glow, shadows etc.) without changing Windows theme

Fully native including MSStyle themes and DWM API compatibility

Low resources usage

Winaero Tweaker

After years of development, Winaero Tweaker is an all-in-one application which will include most options available in the free Winaero apps and extend it as much as possible. It is a universal tweaker software which supports Windows 7, Windows 8, Windows 8.1 and Windows 10.

Windows Tweaker

More than 100+ tweaks that allow you to customize your system & display settings, schedule shutdowns and lots more. Access to more than 35 Windows tools at your fingertip.

Recommended Prior to Applying Custom Themes

Create a Restore Point

Install Fonts included in the "Extras" folder

Apply System Metrics included in the "Extras" folder and logout or reboot

Copy a Start Orb from the "Theme" folder to a new location, rename it if it's 6801, 6805, or 6809, open the StartIsBack++ configuration, click Add... select the Start Orb and Start Menu and click Apply.

Selecting the Theme's Start Menu in the StartIsBack++ configuration automatically skins the Taskbar. If it's not a visible option to select the theme's start menu, apply your custom theme first!

Install an iPack of your choice to change the system icons (check the Theme Extras section above for a link to the icons in the preview)!

I take no responsibility for anyone that bricks their system, use custom themes at your own risk!!