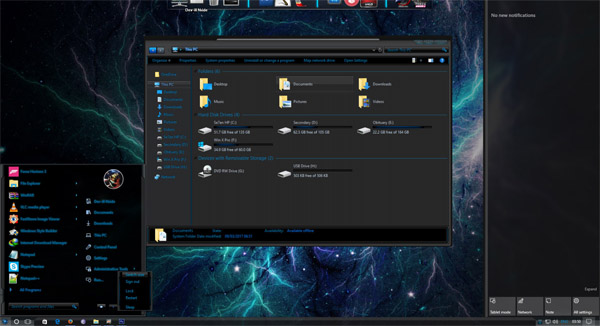 Tag: Ionize X RS2


Theme for Windows 10 RS2 Builds aka Creator's Update 1703

Requirements:

Ux Style:

mega.nz/#!fZ5WGQRZ!dO1EbEpzBj6…

Theme Signature Bypass:

mega.nz/#!vIwSAKzT!K-6dNgNoX7l…

Install both.

Alternatively, you can also use Ultra UX Theme Patcher, instead of UX Style Patch

Ultra UX Theme Patcher:

mega.nz/#!OQYTjKZC!TKHh7kNC51M…

Or

Use this link for Windows 10 RS2 Theme Patchers & Tools folder on Mega(includes System Transparency App & Taskbar Menu Tweaker):

mega.nz/#F!WVRwRQJb!gNNlbQBdMi…

(All links are to my Mega shared folder, so they are clean.)

You'll also need 'Start Is Back' to apply the start menu & taskbar style & 'Old New Explorer' for windows explorer to look exactly like it is in the screenshot.

Start Is Back:

startisback.com/

Old New Explorer:

www.msfn.org/board/topic/17037…

Installation:

a.Extract the contents of the theme folder & copy them to:

C:\Windows\Resources\Themes

b.From Personalization select the theme.

Enjoy.