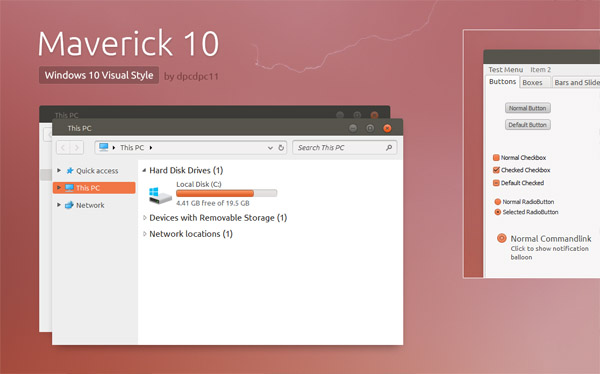 Tag: Windows 10 Themes Maverick 10


If you'd like to support my work, then please get the theme

here

description

Hey Linux fans, it's finally here! Maverick brings you the Ubuntu look to your Windows 10. Finally you can enjoy the orange and dark grey style with this redesigned theme that mixes the best from Ubuntu and flat clean elements, giving a beautiful and modern look to your PC.

Works only on Windows 10 Anniversary Update.

how to

• create a Restore Point using System Restore (safety first!)

• patch Windows so you can use 3rd party themes by installing UxStyle

• install the fonts in the Resources\Fonts folder

• install the theme by copying the content of Theme folder in "C:\Windows\Resources\Themes\"

• apply the themes from the Personalize panel

• apply the registry settings by applying the maverick_10_window_metrics.reg in the Window Metrics folder

• restart Windows and...

• enjoy using this theme!

• OPTIONAL! use OldNewExplorer to make Windows Explorer cool again by checking all the options except for: Enable glass on navigation bar, Use alternate navigation buttons style, Show details pane on the bottom and Show status bar. If you get the bottom details pane to hide it press ALT+SHIFT+P

• OPTIONAL! narrow vertical taskbar: use 7+ Taskbar Tweaker. Right click on the tray icon>advanced settings and set the no_width_limit = 1

what you get

• one awesome Windows themes: folder Theme

• one matching windows cursor scheme: folder Resources\Cursors

• one amazing wallpaper: folder Resources\Wallpapers

• one cool matching PotPlayer skin: folder Resources\Skins

• menu fix for Firefox and Thunderbird: available here

• unlimited support!