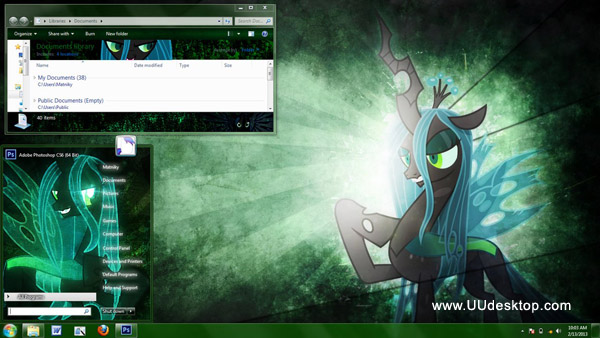 Tag: Queen Chrysalis


Queen Chrysalis for Windows 7 themes
size: 133 mb
Author: Matniky
Author's Notes:
This is a custom windows 7 theme, Done by popular demand I created a Queen Chrysalis theme. For this one I tried creating a dark theme to reflect her personality (might have been to dark). this theme dosen't include customs sounds yet and it will probably be included in a later update to this theme. If you haven't seen my other themes check them out in my gallery.

Running into problems? or have a question? check out this link for common concerns and question : [link]



To use this theme it is rather simple:
VIDEO TUTORIAL: [link]

1. Download and install Uxtheme multi patcher, and download the theme from this page

2. restart your computer

3. Extract the files provided onto the desktop and place them in the directory "C:Windows/Resources/Themes".

4. Right click on you're desktop, Go into personalize and you will find the theme ready to be applied.

5. if youre computer theme becomes gray, please reinstall UXtheme multipatcher and restart your computer.