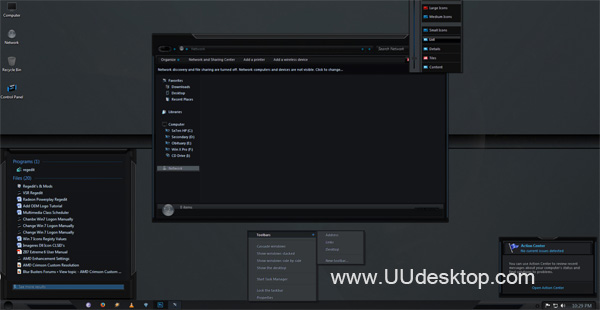 Tag: Ascension windows 7 themes
free Ascension for windows 7 themes download



How To:

You'll need your system patched with either UXTheme or UXStyle & have Theme Resource Changer installed for the theme to apply exactly like in the screen shot.

Links to UXTheme Patcher & UXStyle Core for both 32bit & 64bit systems are in the 'Links For Softwares' text file in the zip.

Links for Theme Resource Changer for both 32bit & 64bit systems also included in the text file.

All links are to my Mega Account, so they should be clean.

Or

Use this link to the folder on mega containing all required software:

mega.nz/#F!TAYGGBCR!xa83jWcTS9…

Installation:

Extract & copy the contents of the 'Theme' folder to:

'C:\Windows\Resources\Themes' & apply.

Be sure to have Theme Resource Changer installed before applying & it will take care of the rest.

Additional:

A logon screen is included with the theme.

Instructions for changing the Logon Background manually is included in the Logon folder

Or

if you prefer the easier way, there are free programs available, namely

Windows logon changer, that change the logon screen background easily.

A quick google search will get you results.

Theme Extras:

Shellbrd (Branding) Image

System.cpl (Genuine) Image

Timedate.cpl (Date & Time Clock) Image

& instructions on how to use them are included in the zip.

Enjoy.