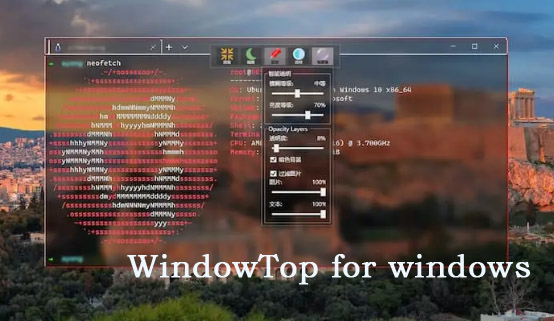 Tag: pc software WindowTop
Windowtop is a professional windows window topping tool, which supports the setting of transparency, mouse penetration, dark mode and miniature picture in picture effect. It has two versions: the permanent free version (no longer updated), and the free version with limited functions, which can be unlocked for a fee.



Windowtop provides two versions:

Windowtop v3.3.10: free version, last updated in 2019

Windowtop v5.1.9 (latest): basic function free, advanced function free

As a window top tool, the free windowtop v3.3.10 is enough. You can use it to top software windows, turn windows into dark mode, and zoom windows. Support to work on multiple windows at the same time. Although it's a software that will be stopped in 2019, if your demand is just for the top window or win 7 users, it's enough.
If you have some requirements for software quality, the free windowtop v5.1.9 is also very comfortable to use.