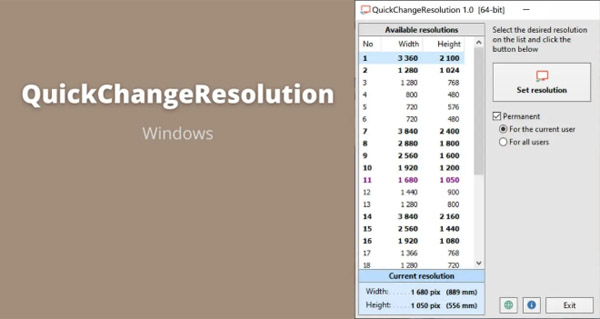 Tag:
Quick change resolution is a simple and easy-to-use windows tool. It can quickly switch the resolution of the current display. It also supports switching the resolution with one key from the command line.



This is a tool that uudesktop doesn't know what to use. After all, the resolution modification of the system is not very troublesome, but now that some developers have made it.

The developer said this:

Most of the time, I connect to a laptop tool with maximum resolution through a virtual desktop. However, when I need to do something directly on my laptop, I have to change the resolution to a lower resolution.

Sometimes, I have to switch resolution frequently in my work. It's very inconvenient for me to use the control panel to change the resolution, so I wrote this program.

In addition to the graphical interface, quickchangeresolution also provides a command line to change the resolution, such as:

Set the resolution to 1024 x 768: QuickChangeRes.exe -r 1024x768

Set resolution for all users: QuickChangeRes.exe -a -r 1920x1080

In this way, it is quite fast to use.