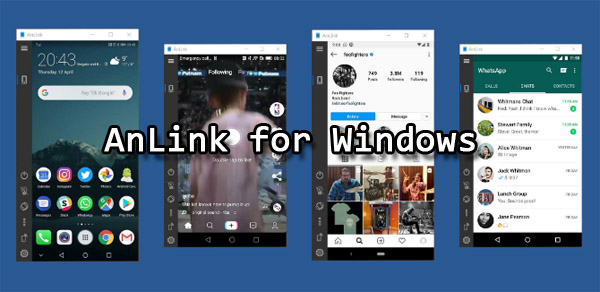 Tag: Anlink
Anlink is a simple and easy-to-use software that controls Android devices with windows. It supports USB and Wi Fi connection, does not need to install app on the mobile phone, supports multi touch (if there is a touch screen), keyboard typing, and only needs to open USB debugging mode.



Features:

All Android Phone

Google, HTC, Huawei, Lenovo, Mi, OnePlus, Oppo, Realme, Samsung, Sony, Tecno, Vivo and more.

Audio Support

Your PC is your phone speaker

Keyboard and IME

Improve typing speed by using your keyboard and input method editor.

Large and Clear

Enjoy large screen experience with most clear mirroring display quality than others.

WiFi and USB

WiFi connection for more convenient, USB connection for fluency.

Shared Clipboard

Ctrl + C and Ctrl + V is also working between your phone and computer.

Multi Touch

Gesture supported if you can touch your monitor screen.

File Manager

Transport files between your phone and PC by draging and droping and more.